Hi everyone,
If you didn't get a chance to join our first station playtest in December, here's another opportunity
to help us test some of the deeper areas of the game, such as our item management, ship fitting,
player-driven economy and marketplace. If you did join us in December, please come back again
this weekend, as there is even more to test and we have also addressed a lot of the great
suggestions players made in the forum posts.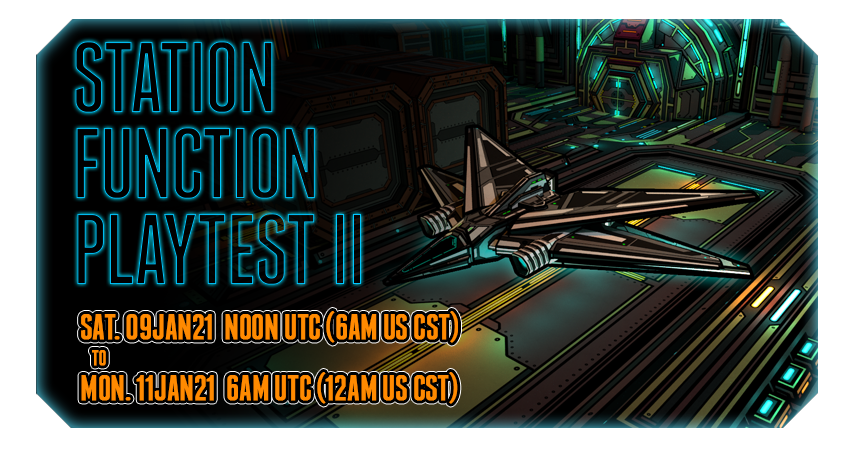 This test will again be focused on what we call 'docked' functionality rather than in-space combat, so
we're running this playtest from Noon UTC (6am CST) Saturday 9th January to 6am UTC (12am CST)
Monday 11th January, to give you time to have a poke around under the hood. You won't be able to
undock and fly around in space during this playtest – it is in-station activity only.
This is an essential playtest to make sure that the functionality we've built works the way you expect
it to work. Prior to the start of the weekend playtest we will be posting further detail outlining what we specifically want you to try out, including the stuff that was live last month as well as some new
stuff like the mission interface, and the UI/design as a whole.
And for this playtest, we are also expanding the ship options and allowing you to swap between
three different ships in your hangar, along with the appropriate ship fitting modules for each and
some cash to spend in the marketplace.
We'd really like you to have a good look around and then let us know what you think by replying in
this forum thread. We really value any and all feedback - positive or negative - and we will continue
to use your feedback in our ongoing development of the game!
If you haven't already created an account, you can sign up here.
With very best wishes, and hoping to see you here this weekend,
SC & the AoA Team