Hi everyone,
We're excited to have our first playtest that isn't PvP pew-pew (fun though that is!) and is designed to introduce you to some of the deeper areas of the game, such as the player-driven economy & ship fitting.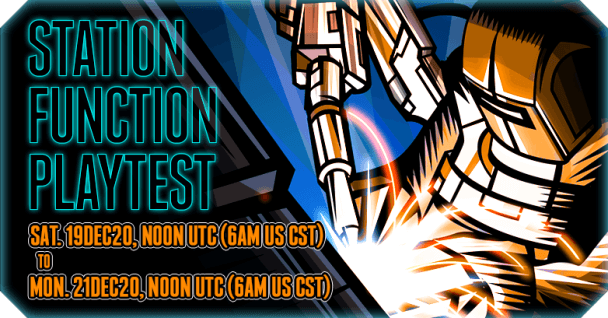 This test is focused on what we call 'docked' functionality rather than in-space combat; which is why we're running this playtest from Noon UTC (0600 CST) Saturday 19th December to Noon UTC (0600 CST) Monday 21st December; to give you time to have a poke around under the hood. You won't be able to undock and fly around during this playtest!
This is an essential playtest to make sure that the functionality we've built:
a) Passes a general sanity check! (eg Do things do what you expect them to do? Do they work the way you'd expect them to work? Do you find game functions in the places you expected to find them?)
b) Works decently for the widest variety of devices, OS combinations & screen resolutions
We're specifically asking you to have a look at (and test) the following game components:
Inventory Management (moving things from ship cargoholds to your hangar, vs versa)
Ship Fitting (swapping modules in your ship fitting slots)
Trade (Buying and Selling things from the marketplace)
Player Profile (having a look at your player profile, and editing its contents - with markdown, if you like)
Ingame Chat (having a chat with other players logged in at the same time)
Research Tree navigation (not the full functionality, just the navigation)
The User Interface as a whole (how it works for you, resizing/minimising/maximising windows, opening/closing windows etc)
For this playtest, every pilot has been given a ship, a bunch of ship fitting modules and a bunch of cash.
We'd really like you to have a good poke at it, and please take notes for anything that doesn't make sense to you, or that you feel could cause confusion - and then let us know by replying in this forum thread. We really value any and all feedback - positive or negative - and hopefully we can make the game better!
If you haven't already created an account, you can sign up here.
With very best wishes, and hoping to see you here this weekend,
SC & the AoA Team